Over the 25+ years that PT Foundation has been working in HIV prevention in Malaysia we have been involved in many social campaigns to help educate Malaysians on HIV prevention, to reduce social stigma and prejudice, empower our communities and so much more. We are very proud of our achievements and we still have many more campaigns to come!
Listed below are just some the main campaigns we have done over the past few years.
If you want to keep updated on our future campaigns be sure to like our page on Facebook and subscribe on YouTube.
PT Foundation's YouTube Channel
I AM YOU: BE A TRANS ALLY

I AM YOU: BE A TRANS ALLY is an ongoing educational campaign created to raise awareness regarding the trans community in Malaysia. Ultimately, I AM YOU aims to bridge the gap between the trans* community and the rest of Malaysian society through the promotion of tolerance and acceptance. Prejudice and discrimination are still a daily part of trans lives in Malaysia and are often born out of misinformation and harmful stereotypes. PT Foundation feels that it is important to correct this misinformation in the hope of fostering great understanding and promoting tolerance and acceptance towards the trans community. In response we have taken part in the creation of a series of campaign videos and the creation of educational resources and info packs for distribution around Malaysia.
Click here for more info
MY LIFE, MY STORY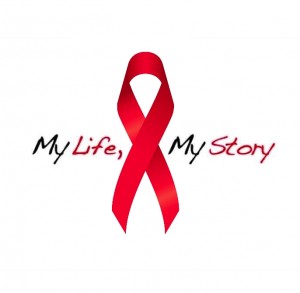 My Life, My Story takes as its goal one simple idea: letting people living with HIV tell their own story.
The stories collected here in the My Life, My Story project are but a small portion of the stories of the over 80,000 people living with HIV in Malaysia and they reflect some of the diversity of those affected. We hope by spreading their stories that we can begin to foster understanding around the realities what it means to be HIV positive. Too often people living with HIV in Malaysia face ongoing stigma and discrimination, often based on misunderstandings, prejudice or stereotypes. My Life, My Story allows people to see the faces and stories of those affected by HIV and to showcase that HIV does not discriminate, so why should we?
World Aids Day – Red Carnival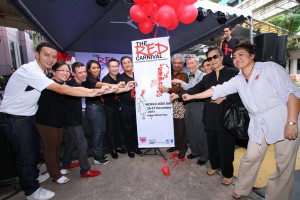 For many years now PT Foundation has proudly hosted the Red Carnival, marking World Aids Day on the 1st of December every year. Set over two days, Red Carnival involves over 250 volunteers taking over key locations in the centre of Kuala Lumpur to promote HIV prevention and show support to those living with HIV. In 2012 we distributed over 45,000 red ribbons and 20,000 HIV presentation info packs to the general public and involved thousands in our events throughout the day and night.
Red Carnival is a gala event comprising of music, dancing, education sessions and raising public awareness. Most importantly it is a time for Malaysians to come together to protect each other form HIV.
For more information, photos and even a video montage click here
SOMEBODY LIKE ME 

With over 30% of new HIV infections now aged between 13-29 years old, we know that taking a step to engage young people in HIV prevention is vital. At PT Foundation we know that talking openly about HIV is the first step in HIV prevention. For World Aids Day 2013 we teamed with Durex Malaysia to start a dialogue for young people in Malaysia to discuss HIV and sexual health in an open and candid manner.
Through utilising social media we were able to create engaged conversations over multiple social media platforms all linked through the #somebodylikeme banner. Importantly the utilisation of social media allowed young people guide the conversation themselves, allowing for peer to peer education and open communication of issues that are often seen as off-limits or taboo – especially for young women.
For more info, some videos and many news articles on the campaign click here
AIDS MEMORIAL DAY
Every year PT Foundation marks International AIDS Memorial Day (IAMD) with a series of events which serves both the community and the general public as a reminder of those people living with HIV who have passed away. We show support and encouragement for those living with HIV, their families and the communities most at risk of HIV, all of whom are served by PT Foundation. HIV/AIDS affects us all with more than 100,000 persons infected with HIV in Malaysia since 1986.
Although the format changes each year, our main event is always a Multi-Faith Memorial Service. In 2010 the event involved more than 400 community members from the Muslim, Christian, Buddhist and Hindu faith and was an opportunity for the community to remember the 13,000 persons who have died from AIDS in Malaysia.
Click here or photos and more information on the Memorial Day events over the past few years
AIDSAWARE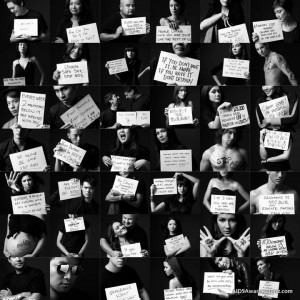 AIDSAware was first of its kind a – joint collaboration between PT Foundation and ruumz.com causes whereby the public themselves become the vehicle for creating and spreading AIDS awareness utilizing social media. The public was encouraged to take a picture of themselves, their friends and/or their family members holding a AIDS/HIV related message on a piece of paper or card and posting and sharing their "photo messages" online.
AIDSAware advocates safer sex, being responsible for our own and other people's health, being accountable for our actions and not discriminating against people living with HIV.
Click here or more information and links to the photo series, including 42 Malaysian celebrities!