HIV/STI TESTING & FACE TO FACE COUNSELLING IS NOW LOCATED AT :-
Community Health Care Centre (CHCC)
No.2 level, 1,
Jalan Haji Salleh, Sentul,
51100 Kuala Lumpur, Federal Territory of Kuala Lumpur
Phone Number : +603 4051 1163/+603 4051 3611
Get Tested. Get Treated. Result in an hour.
The only way to know if you are HIV positive is to get screening. Today, HIV-AIDS is no longer a death sentence. If you are diagnosed early, you can seek treatment and lead healthy, productive lives.
We understand the stress involved in getting screening for HIV. That's why we provide trained volunteers to carry out anonymous HIV screening with pre-test and post-test counselling to help ease the pressure.
You do not need to give us your name or identity card / passport number. You will get your results within an hour. Our services are friendly and non-judgemental. If you are screened positive, we are able to provide comprehensive referrals to qualified hospitals and clinics for medical care. We also provide support and care to those who are tested positive. Face-to-face counselling and telephone counselling is also available.
Our Community Healthcare Centre is open for HIV Screening Hours on:

(Closed on Public Holidays)
Please be advised to call CHCC office (03 4051 1163) in advance to make an appointment.
Charges
Each session costs RM40.00, RM 50.00 or RM 70.00. Cost covers the HIV Screening, counselling, and referral services.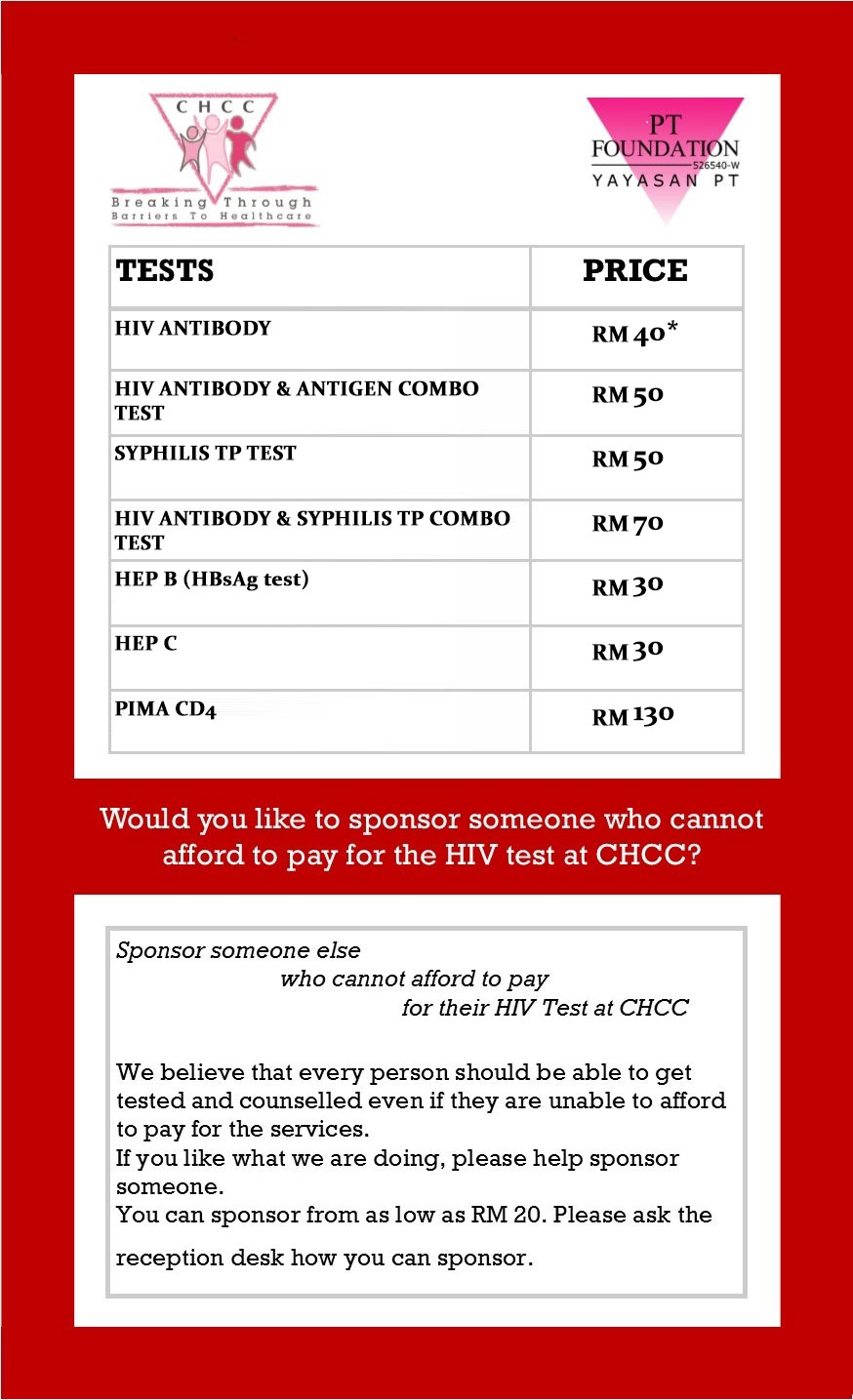 The HIV screening cost is subsidised by PT Foundation, thanks to the provision of free rapid test kits from the Ministry of Health, and the free services provided by the trained volunteer-counsellors from PT Foundation. The fees collected from the services are used to pay for part of our operation costs.
Pay what you can afford.
PT Foundation believes that everyone who is at risk of exposure to HIV should be able to get tested and treated. If you are unable to pay for the HIV Test, please ask for a CHCC Sponsorship assistance from the reception desk.
Sponsor someone who cannot afford to pay.
The CHCC welcomes sponsorship donations so that those who cannot afford to pay can get assistance. If you would like to sponsor someone else to do the test, please make your donation at the reception desk. Thanks!