Vote for PT Foundation so that we can get donations without you making a donation!
Saleduck.com.my has chosen PT Foundation as a charity worthy a donation of up to RM3000. The more people vote for us, the more we get. Please ask your friends to vote too.
Go Vote at : http://www.saleduck.com.my/#vote-for-a-charity
Volunteer/Intern Opportunities
WE ARE LOOKING FOR A VOLUNTEER/INTERN WHO KNOWS HOW TO DO RESEARCH ON HOW TO APPLY FOR TAX EXEMPTION STATUS. QUALIFICATION SPM OR AN UNDERGRADUATE, MUST BE COMPUTER LITERATE, INDEPENDENT, SELF-STARTER AND MUST BE ABLE TO BE COMMITTED TO FINISH THE PROJECT. PLEASE CONTACT OMAR BY EMAIL OMAR@PTFMALAYSIA.ORG OR BY CALLING 03-40444611 FOR MORE INFORMATION.
SEXUALLY TRANSMITTED DATING
Dating STI is an entertaining video to promote sexual health awareness and responsibility among young adults, particularly the importance of safe sex and HIV and STI testing. Produced by PT Foundation, we hope you will share this with your friends. Use Condoms. Get Tested.
HIV TESTING & COUNSELLING HAS MOVED
PT Foundation proudly announces that the Community Health Care Centre (CHCC) for all our HIV and STI testing and screening services has moved per December 1st, 2014 to its new address. You are welcome for an anonymous and confidential HIV or syphilis test at the new location, which offers higher health care and clinical standards.
To make an appointment, give us a call at:-
03-4051 3611, Tuesdays to Saturdays, between 10am to 6pm
03-4044 4611, Mondays to Fridays between 9am to 6pm
Give us a nickname to place your appointment.
Please find the map and address below.
Directions to the CHCC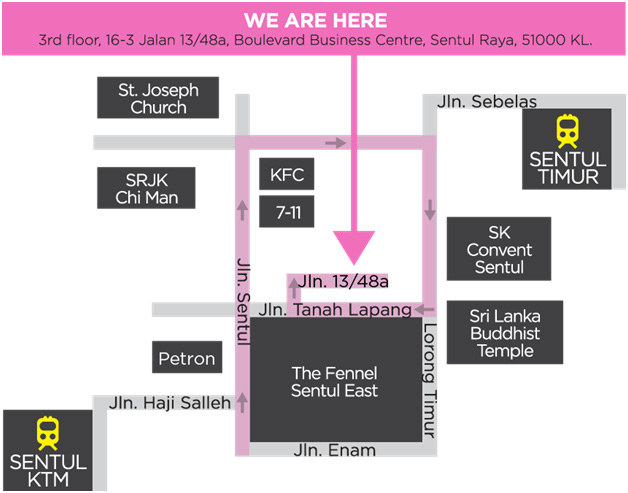 Address :
3rd Floor, 16-3, Jalan 13/48a
Boulevard Business Centre
Sentul Raya, 51000 Kuala Lumpur
Phone : +603 4051 3611
Opening hours :
Tuesday 2 – 5pm, 7 – 9pm
Thursday 2 – 5pm
Friday 11am – 2pm, 4 – 6pm
Saturday 11am – 1pm, 3 – 6pm
By Car:
Follow Jalan Sentul. Please drive passed the construction site of The Fennel East on your right hand side and Petron on your left. The next block on your right is the Sentul Boulevard Business Centre, where the CHCC is located. You will have to drive around the Centre to reach the CHCC.
Please turn right at the traffic lights on the corner with CIMB Bank and KFC. Stay on the right side of the road. After about 150 meters you turn right to get on the slip road. Keep right when you reach The Fennel East construction site turn again. It is easiest to find a parking place here on the side of the road. You will note the shops and restaurants on the ground floor, like Restoran Makhota on the corner. You may also note the office of the Malaysian AIDS Council. The CHCC is a few doors to the right, above Restoran Nadyla. Our Centre is on the third floor and can be reached by the elevator or the stairs.
By LRT
Stop at Sentul Timur station. Walk down Jalan Sebelas and turn left in the direction of the Sentul Boulevard Business Centre. Walk straight and keep the shops and restaurants on your right side. Walk all the way to the last block, then turn right at Restoran Mahkota on the corner and follow Jalan 13/48a. The CHCC is after 50 meters on you right hand side, above Restoran Nadyla.
By KTM Kommuter station
Stop at Sentul KTM station. Walk Jalan Haji Salleh until Jalan Sentul. You will see the Petron station on your left. Turn left and cross the road (be careful!!!) at the crossing. You have now reached the Sentul Boulevard Business Centre. Keep walking on Jalan 13/48a until you get the Malaysian AIDS Council on your left. The CHCC is a few doors further down the block, above Restoran Nadyla.
What We Do
PT Foundation strives to be the leading community-based organization in Malaysia working with key affected populations on HIV and AIDS, gender identity and sexual health, providing information, advocacy, HIV prevention, care and support services.
PT Foundation works with key affected populations: sex workers, transgender community, men-who-have-sex-with-men, people using drugs and people living with HIV. We include the family and partners of people living with HIV and children of the key affected populations in our services.
PT Foundation has also developed specific programs targeting the most urgent needs of the communities we serve:
Please help us maintain the services at Community Healthcare Centre